How Search Engine Optimization Helped My Blog Grow Sustainably
I have two blogs. I started my first one back in 2015.
I did not know what I was doing then and struggled to get page views.
After blogging for five years, I used what knowledge I had from my first blog and put it all in my second blog.
Immediately I started seeing results on my second blog. After 11 months of blogging, with only 27 blog posts, I was able to get 35,000 page views; most of which is from Google.
This is how I was able to secure $1,500 blog sponsorship within the 1st year of my 2nd blog.
On my first blog, it took me three whole years to get 35,000 page views from Google! I really wish I knew about search engine optimization earlier.
Check out the screenshots of my blog traffic below.
Is this something you'd like to see for your own blog? Then this course is for you!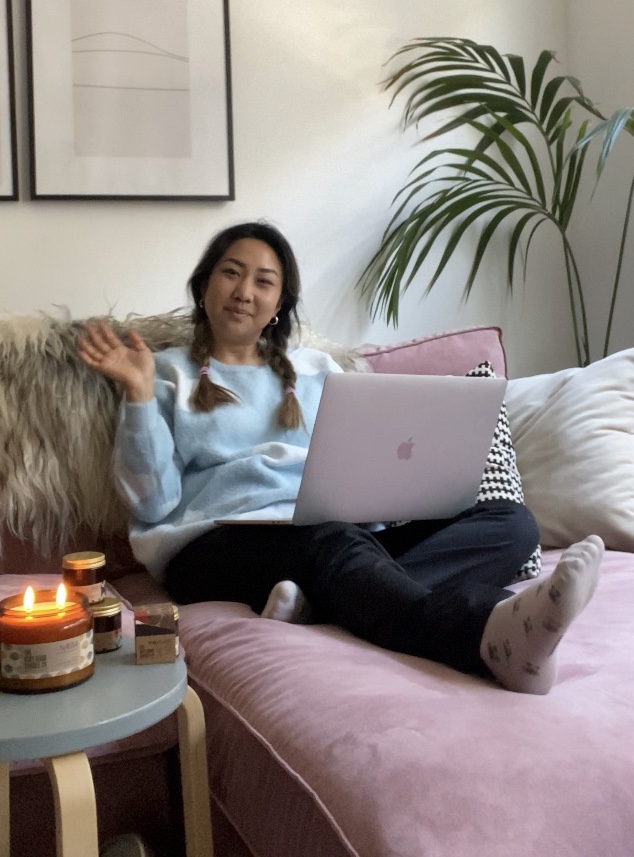 Hi, I'm Sarah
I am slightly obsessed with SEO and am always telling my blogger friends, "SEO. You have to learn SEO. You're going to be able to take a break from your blog more than you do. You're going to be able to get page views without actively promoting your blog on social media all the time, and you're going to be able to make more money because of higher page views and targeting readers coming right from Google. SEO SEO SEO."
I tell my friends this over and over because of the mistake I made starting my first blog; the mistake being that I did not learn SEO.
If I had learned SEO earlier, I could've gotten accepted to Mediavine, a premium ad network, faster and started making $18,000/year in affiliate income earlier.
Now that I see how helpful SEO is, I want all of my friends to succeed with it and make passive income like me, which is why I created the Not Your Average SEO Course for Bloggers.
Just like my blog posts, I always create any course, resource, etc. for my friends first giving them the best information.
Considering that most of my friends are bloggers, I called this the Not Your Average SEO Course for Bloggers because this course breaks down the technical jargon of SEO and lays out a strategy specifically for blogs, not e-commerce stores or websites.
I also have two bonus modules on how to make money with your blog once you master SEO because let's be honest- the best reason to get blog traffic is to start making money from your blog!
Lastly, you will get access to our private Facebook community where you can ask me or other students anything. It's a real close-knit group of bloggers who are willing to help each other grow.
Read what my students have to say about how this course can help you!
What my students have to say about this course...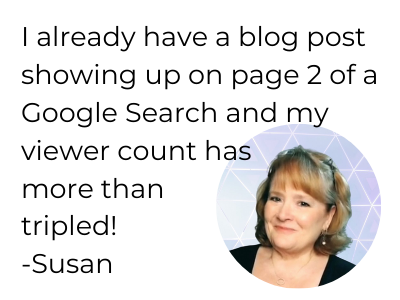 I already have a blog post showing up on page 2 of a Google Search and my viewer count has more than tripled!
I took Sarah's course in the fall and thought I'd left a review back then! I just realized I don't see a review! I am reviewing the course now because I moved my blog to WordPress/Siteground and it needed LOTS of SEO help! With Sarah's guidance and assistance, while I was taking the course, my website viewer count doubled in December…. and as of mid-January, I already have a blog post showing up on page 2 of a Google Search and my viewer count has more than tripled! I never in a million years thought that would happen so soon! I'm not technologically savvy and can hit road blocks that cause serious meltdowns (and maybe a temper tantrum or two:) but Sarah's course is absolutely phenomenal! She breaks down everything into step-by-step directions that are easy to understand and follow. She is practical with her advice based on years of blogging. And she has more knowledge about SEO than anyone I have met in the 10 months since I started my blog. If you want to learn about SEO for blogging from an expert, this is the course to take! She does not waste time on selling and self-promotion like many self-professed blog experts do and she is genuine in her desire to help others while also making an honest living doing what she loves! (by Susan Ballinger)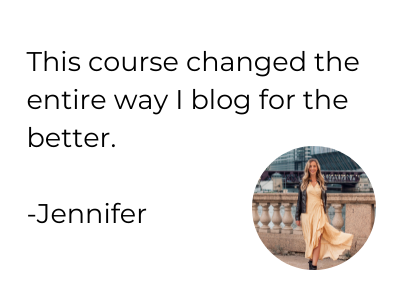 This course changed the entire way I blog for the better.
I'll start this review by saying very bluntly that this course changed the entire way I blog for the better. I only wish I started taking SEO seriously sooner in my blogging journey (and therefore took this course sooner) but I'm so happy to be starting now. I put SEO off for over 2 years and was overwhelmed/scared of everything I would eventually need to learn. Sarah breaks down a very large and complex topic into smaller, easier to digest pieces. You take the course at your own pace through a series of very organized modules. There are activities at the end of each module to apply what you've learned right on the spot. There's also a Facebook group for everyone taking the course so you always have a support network for course questions or SEO advice in general which motivates me to engaged. The course also comes with several templates to help me stay organized with my content strategy and a checklist for SEO on my posts, so I know I don't forget anything. The templates actually motivate me to write more than I used to now that I have a clear blogging strategy. Since finishing the course 3 months ago I've seen a steady increase in blog views and just this week saw 2 of my old blog posts that I went back and cleaned up for SEO are now ranking on the first page of Google for my keywords. Never in a million years did I think I would be ranking on Google let alone the first page. After 2 years of cranking out post after post with zero SEO strategy, wondering why my blog wasn't growing, I am SO happy to have found this course! I can't wait to see what the future holds for my blog. Thank you again Sarah! (by Jennifer Connarn)
What my students have to say about our private Facebook group...
What can more page views bring you?
Will you be able to step away from your blog and let it run on your own while you're on vacation?
Will you be able to make more passive income from ad revenue or affiliate income?
Will you be able to share your helpful information with the world, bettering peoples' lives?
Will you finally be able to get our vibe out there to find your tribe?
If you want to improve your current lifestyle with your blog, this course is for you.
Mistakes New Bloggers Make With SEO
Mistake #1- Only Learn How to Do Keyword Research
Many bloggers who start to learn SEO think that SEO is all about keyword research. Knowing how to do keyword research properly is only a small piece of an overall SEO strategy and is considered "beginner SEO".
To move onto advanced SEO, but more importantly, future proof yourself from Google Algorithm changes, you need an overall SEO strategy custom to your blog.
In this course, you will learn more than just keyword research, on-page SEO and off-page SEO. You will get a solid understanding of how SEO works on your blog and also in relation to other blogs you're competing with so you can rank in Google's top 10 search results.
Mistake #2- Don't Keep Up With Industry Updates
Google's algorithm and tools and best practices for blogging are changing all the time. It's the nature of technology.
Bloggers don't keep up with these industry updates, and as a result, quickly have outdated practices with blogging.
I attend a paid SEO seminar learning from the best in the industry, read paid newsletters and do research 3-5x a week on SEO and blogging.
You will always have the most up-to-date information in the course and in the Facebook group.
Mistake #3- Don't Know How SEO Affects Income
Some bloggers will learn how to do SEO but don't know how to monetize their blog.
Well if you want to do affiliate marketing, you need to know how to do SEO and target readers in a specific stage of the buyer's journey.
In my two bonus modules, you will learn which ad networks are the best, how to get into them and how to write SEO blog posts for affiliate income.
Mistake #4- Don't Put Their SEO Strategy In Practice or Don't Blog At All
Many bloggers, not just SEO bloggers, get overwhelmed with blogging and quit, or they learn a ton of information in a course and don't use it.
The best way to make money from a blog is to keep going and to use what you learn in practice.
Every month in my Facebook group, I have a monthly activity that'll keep you on track with blogging. I will reinforce the concepts you learn in my course so you really understand SEO and can continue it on your own.
Here's how much I made from my blog (www.sarahchetrit.com)

in the past two weeks.